Mein little ⑨
A downloadable CirnoFeelsTheGame
It´s time to rember the past in this MANLY cirno day turning back to and old japanese edgy classic game. Syobon action now is a game where u are Cirno and you are going to rescue Dayousei and a little Cryolophosaurus from the evil and powerfull George Soros, who is in his mansion doing evil thing that only entities like him know to do.
You are going to travel arround Gensokyo and beyond, facing logic and brand new enemies like yukkuri, skiso slugmans, soy fairies, and more.
But u aren´t alone, you can get help using items like protein or from old friends like the Blobbos from the Fochum region.
Finally enjoy the wonderfull world with brand new sprites and music. but if u are bored from the classic Cat Mario adventure only try press 0 instead of enter to enter to the GlItCh MoDe.
Enjoy being the strongest player of all making a yukkuri genoside.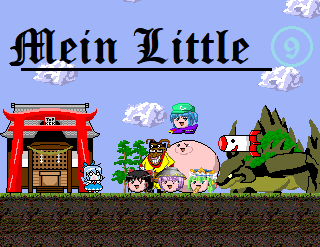 Install instructions
Thanks for donwload Mein little 9, pls enjoy playing my little input to the strongest day of all, because originally i wanted do a full chad animation but i cant get my graphic table memecause third world problems.
Also seig heil mein little 9